Business Overview
R&D company with unique environmental purification technology
PR Hall
NEOCL(LLC):Investment to Iksan 3rd General Industrial Complex
Hits:449

Referrals:3

2019-03-24 12:54:46
2 billion inputs at 4950m² site
Factory construction agreement- Sales Contract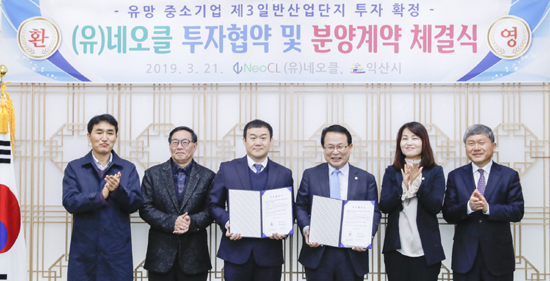 NEOCL, a promising company, will confirm its investment in the Iksan Third General Industrial Complex and give energy to the local economy.
In relation to this, the city held the 'Iksan 3rd Industrial Complex Investment Agreement and Sale Agreement Signing Ceremony' with Mayor Chung Heon-yul, vice-chairman Yoon Young-sook, vice chairman of the City Council, and HanBBooRy CEO of NEOCL.
Under the agreement, NEOCL decided to build a factory by investing 2 billion won in the 4950m² site of the 3rd Industrial Complex of Iksan.
Neocle is a start-up company and plans to produce pure chlorine dioxide (ClO2), which can be applied to almost every living area that needs sterilization and deodorization based on its excellent technology.
Meanwhile, Iksan City said that corporate investment and job creation are cruising through the sale of the 3rd and 4th Industrial Complex.
According to the city, not only the additional investments of existing tenants, but also the investment of high-quality enterprises are in progress...(skip)
-Excerpts from the contents of Jeonbuk Central [shortcut to article contents]